In newsletter 32 Jan Termaaten wrote the following article about the Scott motorcycle. The reason for this was the stamp issued by the Isle of Man, showing Frank Applebee on a Scott in the 1913 TT.
Scott - The Yowling Two-stroke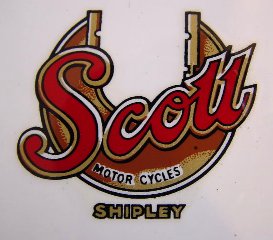 At 23 Oak avenue, Manningham, Bradford is the house of birth of Alfred Angas Scott, where he saw the light at October 5th 1874. He was the 10th of 12 children, and one of a pair of twins. After several successful educations he returned to Bradford as an engineer. Around 1897/98 he worked on a 2 hp standing 2-cylinder 2-stroke engine, which was built into a Premier bicycle. There are a lot of theories about who was the first with a standing 2-cylinder, possibly Scott was the first. After a lot of experiments Scott claimed in 1901 to have developed the first practical standing 2-stroke twin engine. In 1908 the first 6 Scott motorcycles were built by the brothers William and Benjamin Jowett, completely designed by Alfred. The brothers earned £3.10 on each motorcycle, and these were the last prototypes before Scott officially appeared on the market as a brand. Those are known as the Jowett-Scott.
The first publicly appearance of a Scott was in a hill climb on 29-7-1908. The second hill climb was participated in on 15-8-1908, a few weeks later. Here 3 classes were won, the open, twin cylinder and variable transmission class. Protests sounded everywhere, mainly because a 2-stroke gives 2 times as much sparks as a 4-stroke. 2-strokes were (and still are) strange boarders between mainly 4-strokes.
The Scott firm has been founded early in 1909. The full name is Scott Engineering Company Ltd. The starting capital came from brother Charles and amounted 4000 English Pounds.
The factory existed of 2 small buildings, that were rented on Grosvernor Street. They were located in Manningham, Bradford, and were called the Mornington Works. Frames and forks were made by Royal Enfield, on directions of Scott himself. The first advertisement from Scott appeared in Motor Cycle on March 10th 1909. It is doubtful whether this was printed in colour, but one of the characteristics of a Scott is its colour: violet.
So far the history of the origin the Yowling Two-stroke.
The stamp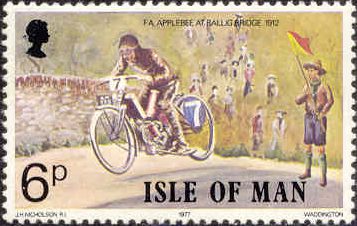 Isle of Man, 1977, 6p. F.A. Applebee at Ballough bridge, 1912. Recognisable on the front mudguard is the license AK775, registered on the personal name of Alfred A. Scott in Bradford. The 486cc twin with rotating inlet and water-cooled cylinders with 2 spark plugs in each cylinder head has been entered together with the other Scott by the factory as official works team.
F.A. Applebee (Frank) and Frank Philipp were the drivers. During the training F.A. Applebee almost hit a wall and the other Frank got a big bird in his front wheel. The race was held at Sunday July 1st in misty weather. Frank Philipp suffered a run off tire at Ballaugh Bridge in the 4th lap, which cost him the 2nd place. Frank Applebee knew nothing about this and arrived as first with an average speed of 48.69 mph. But it was still a double victory: he lead the race from start to finish, and it was the first TT win for a 2-stroke. In the race he made 2 pit stops, one in 15 and one in 14 seconds. The only problem during the race: a loosened rear stand, which was kicked back in position during riding.
Jan Termaaten
So far the original article. Personally I think the Scott is a very interesting motorcycle, as it was way ahead of its time on several aspects. The Scott probably was the first water-cooled 2-cylinder motorcycle, and as one of the first motorcycles equipped with telescopic front forks (in 1913, and even of the 'upside-down' type that we now regard to be very modern!) and a kick-starter. And also other technical things were solved in an unconventional way in all Scott motorcycles.
For this reason I am always interested by new stamps with a Scott on it. Therefore I knew that there were several stamps with a Scott issued since the Man stamp in 1977. A quick search delivered the following 4 issues.
The oldest is issued by Fort Myers Local Post, a private post company in the USA. This issue is included in the Mulder catalogue with date of issue 13-08-1989 in blue and orange. I personally have it in even 3 variants: 2 in large size in light blue and light green, and one in normal size in yellow/orange.
These stamps carry the image of an early 486cc Scott racing motorcycle:


The next one is issued by Liberia on July 2nd 2001. It is a sheet with 6 stamps from a larger series, each with images of old motorcycles. On the stamp a 1914 2-speeder touring model.


In the same year Rwanda issued a series of 6 blocks of 4 stamps each, with images of old motorcycles. On this stamp again an image of a 2-speeder touring model, this time from 1909.


The last one is an issue from Comoros in March 2009. According to the printing on the stamp this Scott is from 1905, but in that year Scott motorcycles were not yet built.
As Hans de Kloet has explained in an article in newsletter 91, this issue from Comoros is full of errors regarding the motorcycles. His research came out on a 333cc 2-speeder from 1912.


It is remarkable that on all these issues motorcycles from the first years have been depicted. Later Scott also made the more sporting Squirrel, also with the 2-speed engine, and the Flying Squirrel with a conventional 3-speed gearbox and a saddle tank.
This means that there are plenty opportunities for more Scott stamps!
Paul Essens