A papal folder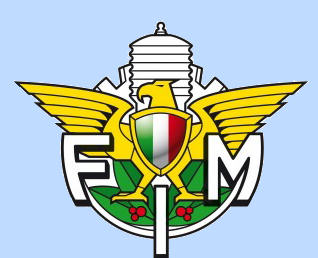 In 2016 the FMI (Federazione Motociclistica Italiana) celebrates a party. They celebrate the fact that this club of motorcyclists exists 70 years. But in fact the FMI exists already much longer. In 1911 also Italy wanted to take part in the hype to have a national motorcycling championship, and after the founding of the Moto Club Italia on April 29th, the first race was riden on October 8th. Therefore the centenary had already been celebrated in 2011.
In 1932 the club became Royal and changed its name in: Reale Moto Club d'Italia.
After the war at a special members meeting in 1946 the present club FMI was founded in Montecatini, with Milan as seat. Under Italian motorcyclists the name was abbreviated to Federmoto, and now this name is generally used.
During the entire year 2016 various events are on the agenda, almost all at international motorcycling events.
On February 20th the series of events started with a blessing of the FMI and her members by Pope Francis on St–Peter's Square in the Vatican in Rome.

On the square around 7500 motorcyclists and a few thousand other interested people gathered who all got the blessing. Amongst them famous names like Loris Capirossi (3 times World Champion in the Moto GP), Antonio Cairoli (8 times World Champion motocross), David Philippaerts (FIM Motocross World Champion in 2008), John Hall (5 times World Champion Enduro) and Alex Salvini (World Champion Enduro in 2013).
The Italian post did not let this memorable event pass without notice, and issued a special remembrance folder with motorcycle images and 2 special maximum cards with special postmark. The folder shows on the front various ways of motorcycle use, with in the background the silhouette of St–Peter's Church.

Inside 2 postcards. On the first card several antiquated images: amongst others a picture of June 3rd 1950, the day that Pope Pius XII blessed the FMI members in his jubilee year. This card is franked with a stamp of Pope Francis, dedicated to the present Year of Mercy, issued on December 7th 2015.

The special postmark, used on both cards, shows the FMI logo:

The second card shows more recent pictures. On this one Pope John Paul II, June 5th 1982, the day that the FMI came to St–Peter's Square to deliver him his membership card. At that occasion the pope received a Maglia Azzurra, the official sports shirt of the FMI, with number 1 and from motorcycle magazine MOTITALIA a red AGV helmet. On this card also a picture from the scooter department, that is amply represented within the FMI. The stamp on the card is the one from the centennial of the Italian Olympic Committee, with which the FMI has a warm relationship.

The folder is numbered and has an edition of 5500.


Card with number
Hans de Kloet