A monkey on a motorcycle!

Where do you find something like that?
Well.... on the margin of the PON-sheet issued by Indonesia in 2016 (in the red circle). The mascots of these games, the monkey Lili and she-monkey Lala, have been depicted in the margin of the sheet in the different kinds of sports that are played on the XIXth PON games, the Pekan Olahraga Nasional (let's say the National Sports games). The PON are organized by different provences in various places. This time the games were held in Bandung, Western Java.


Detail of the sheet corner with the motorcycle
The PON games have been started in 1948 because the fresh state of Indonesia was not yet allowed to join the Olympic Games in London. It is a contest held between the 34 different provinces of Indonesia. In the 19 times that the games have been organized up to now (in 1956 the games were cancelled because of the coup by Soeharto), the province Jakarta won not less than 11 times.
in 2016 56 different sports were practiced, amongst which motorcycle sports. On the 1200 m long kart-track Sirkuit Bukit Peusar Tasikmalaya the races were held on September 26th.

The Sirkuit Bukit Peusar Tasikmalaya
Two team races and two individual races on 125 cc and 150 cc motorcycles. All motorcycles were supplied (for free) by Honda: for the 125 cc a Blade FL and for the 150 cc class a Sonic 150 R.

The 125cc Honda Blade FL scooter in Repsol racing colors

The 150cc Honda Sonic R in Repsol racing colors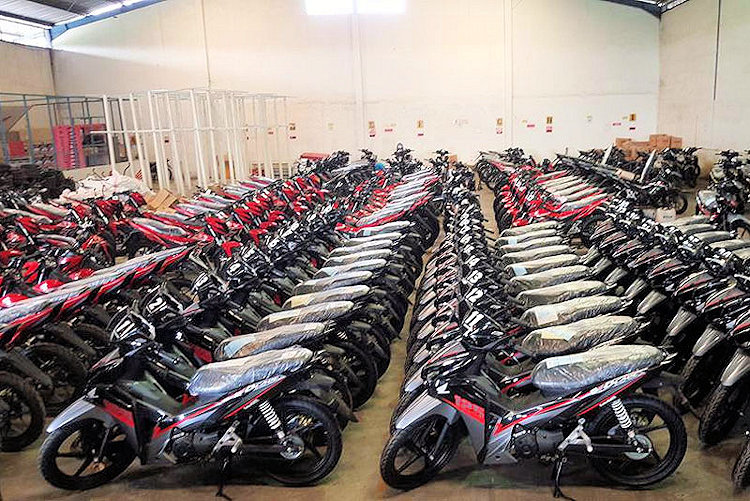 Here the bikes are waiting for the riders during the delivery, a few weaks earlier. A few small modifications may be made but engine-wise all Hondas are equal. With an average of 60 km/hr top speeds of 110 were reached on the short circuit with 21 bends.
Earlier we had already a sheet with an image of motorsports thanks to the PON. In 2008 the sheet on the occasion of the 17th PON games, held on Kalimantan Timur (the former Borneo), was issued. Also on this sheet is an image of motorsports (in the red circle).


Detail with the motor cycle
Hans de Kloet