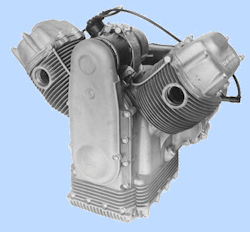 Another Italian party was celebrated by the Guzzi folks from the Piaggio Group in Mandello del Lario. This year is the 50th anniversary of the Moto Guzzi V7 engine with the nickname "Heron-head".
In 1921 the idea of 3 airplane pilots and friends, Giovanni Ravelli, Giorgio Parodi and Carlo Guzzi, to start a motorcycle factory led to the establishement of Motor Guzzi. The same year the first motorcycle model of Guzzi appeared: the 8 HP Normale. To remember the death of Ravelli, 2 years earlier due to a plane crash, the flying eagle was used as logo.
Developments succeeded each other rapidly, and in 1967 the impressive V7 engine appeared on the roads. I can still remember that someone one block away from my house always had such a V7 Special standing before his door, and that it was not the engine but the, in my 10 years old eyes ENORMOUS floating seat that draw my full attention. At that time I could not imagine that I would end in a riding hairdressers chair (GoldWing).

But OK, this year it is thus already 50 years ago that the V7 engine was introduced. In fact 51 years, because the V7 engine was already in 1966 used in a model exclusively designed for the police forces. Giulio Cesare Carcano was responsible for the design. In 1967 the V7 appeared as civil model, followed in 1969 by the Ambassador and the Special.
End 2004 Moto Guzzi became owned by the Piaggio Group, and an extensive program was started to make Guzzi a world class brand again.
In 2014 the Moto Guzzi V7 generation II was introduced. Why II? I have no idea, as throughout the years many things had been changed and improved on the motorcycle. Now, at the 50th anniversary of the engine, they are talking about generation III engines.

Especially on the occasion of this celebration the Itailan post has issued a set of remembrance postcards, provided with a special postmark.

On the postcards the image of the first civil model from 1967, the V7, and the jubilee model from 2017, the V7 Edizione Speciale 50°. All provided with a special postmark from the Post.

The cards with the postmark were only obtainable on September 9th 2017, at the entrance of the main office of Moto Guzzi in the Via Parodi in Mandello del Lario. The postmark could also, as usual, be aquired at the philatelic service by sticking a stamp of at least € 0.23 (the rate to get a postmark) on a card or envelop and sending it to them.
Hans de Kloet

The V7 Special from 1969