NGLP News!
In the former 3xG I already announced the North Georgia Local Post issue on the occasion of 100 years Harley Davidson. In that article I wrote that the price of this issue, a sheet with 2 stamps and 2 labels, is quite high, but that a special price would be charged to us as collectors.
Well, in the meantime the issue has been emitted and, because we in the Netherlands will never use his services, the purchasing price for us has been set at € 3.25 per sheet.
On the last club meeting a lot of the sheets on stock have already found their way to the stamp albums of the present members. But don't worry: there are still sheets available for those interested.
| | |
| --- | --- |
| Just like last year, also this time Cully has had large influence in the production and application of a special rubber stamp on the occasion of MC-awarenes month (May) in the postoffice of Tunnel Hill, Georgia, USA, that is managed by Ruth. Danny Cole, a friend of Cully, has drawn this retro-policeman on (what could it be else) a Harley Davidson. | |
This photograph shows Cully and Ruth busy with the application of the special rubber stamp, on May 1st in the postoffice at Tunnel Hill:

I already knew about the stamp, but when the first letter from Tunnel Hill fell on my doormat it appeared that there was also a new issue of the NGLP. This makes #4. The letter itself is richly decorated, with all possible rubber stamps from Cully's drawer. A nice piece of work: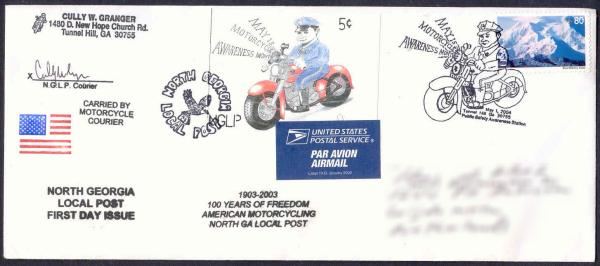 | | |
| --- | --- |
| | NGLP stamp # 4 is in color, with the same image as the MC-awareness rubber stamp, and sized 5x7 cm (2x3 inch). The value is 5 $cts. Nice detail is that Cully has made the "perforation" (a pierced line) himself on the sewing machine. All together the NGLP has another nice item added to its list. |
I think that Mr. Granger now really has come to like the motor philately, so we can wait on his next issue. Perhaps with his new Victory motorcycle. I have a few NGLP stamps on stock. If you want to have some of these, please contact me.
Hans de Kloet