Again: PS's
The philatelic world seems to get overflown with them: Personalized Stamps. Everybody talks about them. Almost every postal service gives the possibility to make them, by internet or in a subscription. And why not?
Making your own stamp with your own picture, who did not dream about that? Also we, the MFN, are taking part in this hype. Okay, not all of us have warm feelings for the PS.
Already in 1999 it was possible to get your own picture attached to an official stamp during the exhibition on the occasion of 125 years Indonesian Postal service. In a large sheet your picture appeared next to ten real postal stamps. In an extra field in the margin they also placed the picture. The actual postage stamp used was also of interest for us as it depicted a motorcycle. One year later the Belgian Post service copied this idea and offered the same possibility.
In 2003 the Dutch TPG post also offered the possibility to its customers to make Personalized Stamps, both on Internet and by mail. At that time the PS's still existed of a regular stamp with an attachment with your picture. See the example of my beloved Honda V65 Sabre:

In that same year there was also the possibility to make personalized X-mas stamps, but still with the image on a separate tab.

Then Austria opened the lines by offering the possibility to place personal pictures on the actual stamps. Austrian's only WC in MC road racing Rupert Hollaus can be found on several PS's, or "Meine Marken" as they call them:

Next the possibility to make Personalized Stamps spread out over the whole world. Many Postal services see the stamps as a profitable way to increase their income. Commercially as they are they also make deals with many manufacturers to produce the PS's by themselves. See for instance the sheets with pictures of David Mann made by Premier Postage in the USA.:

Of course part of the price goes to the countries postal service for paying the fee for sending the mail.
What can we as collectors do with these stamps? Some people say that it is possible to just make that stamp that's missing in your exposition. But of course it is not as simple as that.
As collectors we have to deal with rules in collecting and participating in shows. First it must be possible to send mail with the stamp. But that's possible with PS's. Stick your own stamp to a letter and it gets delivered. Another rule says the stamp must be available to everybody. Recently the Dutch sheets of the City issues were giving a problem with this, as they were only sold in the cities they are showing. TNT did solve that problem by making combination sheets which could be bought on any post office. Of course selling all PS's in all offices is not possible….. And thus PS's will never be accepted as "real" stamps.
Now the Dutch Post has found a solution and renamed Personalized Stamps to so called "fixed frame" stamps. TNT itself puts a large number of images on these fixed frame stamps and offers them in post offices and through the Philatelic Service. Making a more or less official stamp.
Another aspect is that a "real" stamp must be made to send post with it, but most of the PS sheets end up in collectors albums. If you can show a sent postal item with the same Personalized Stamp, it already starts to look more official.
PS's divide collectors. Some despise them and don't want to have these monsters in there collection. Others just adore them. In the Netherlands the last group is assembled in Users Group Personalized Stamps.
What should we as MFN advice as the best approach for this development? After all we also order this kind of stamps ourselves and thus participate in this hype.
As a philatelist I agree with the first group. It is possible to make everything with PS's and therefore I feel it is not an approvable addition to regular philately. Therefore I do not store PS's in the albums with my motorcycle philatelic collection.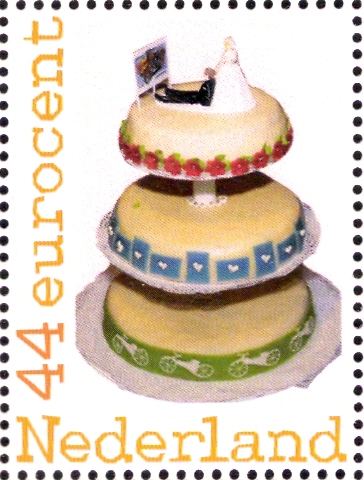 But…… I like them very much, and see them as means to personalize mail. And how personal can you make a stamp? For sending thank-you cards for our wedding day I have made the stamp shown on the right. It shows our wedding cake, and includes all passions: motorcycles on the lowest level, stamps in the middle and my wives Fuchsia flowers on top. If you look carefully you see me being dragged away from my two other hobbies: the Nimbus motorcycle and motorcycle stamps. So you can tell a lot in that picture on the stamp.

Why does the MFN as club take part in the hype? Well, the newsletter must be sent. We can do that by using ordinary stamps, often offered to us with discount by the club dealer. Those are stamps which do not have any relation to our hobby. When we can use personalized stamps for only a few cents more (a PS costs only 6 cts more) and give a personal swing to the cover, lets do that.

If you find PS's not collectable, don't collect them but keep them as just a nice extra item. I have a separate album for these stamps and can enjoy viewing them. A personal opinion.

Hans de Kloet