In Newsletter 88 Eric reported the issue of Malta with the postman on a motorcycle. The series with the theme "Vintage Postal Transportation" shows four different old means of transport: an aircraft, the Dornier Wal-SANA, a group of delivery men on Raleigh bicycles, a mail boat used to transport mail to the island of Gozo and the delivery man on a motorcycle. I would not have mentioned this issue again if there was no other news about this issue.
The Maltese PTT is looking for ways to cash more money from collectors, and therefore issues a special card with a cancel date on each "triple date". So they started in 2001 on New Years day with a series that will end on December 12th, 2012. The first cancelation stamp is 01-01-01.

Each next year the date slides one number, and a special stamp from that years issues is chosen to serve as a subject. This year, 09-09-09, the postmen-on-the-bike-Stamp has become the winner. But in the cards illustration, the image of the telegram delivery man on the motorcycle from the 0.35 euro stamp, is used.
The postal service in Malta used the BSA (Birmingham Small Arms) De Luxe Sporty 348 cc motorcycle for normal delivery, and the BSA 499 cc OHV Standard for the telegram delivery. The motorcycle shown here is the last mentioned, which I think dates from around 1935. On the stamps with the delivery men, both on the bike and on the motorcycle, we see the Maltese main post office, Palazzo Pariso, in Merchants Street, Valletta on the background.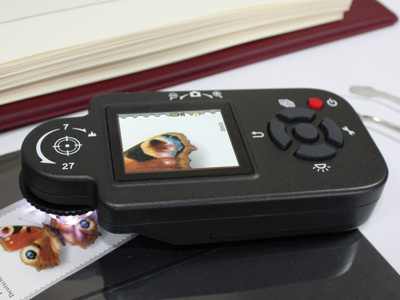 In this digital age it was bound to come: the first digital stamp loupe has seen the light, the Lindner-MagniCam. In fact Lindner is nothing more than the super dealer that sells magnifiers. Magni Cam is a company that makes devices for the visually handicapped. One of them is a handy kind of digital microscope. Lindner saw possibilities to sell this item also to collectors. The "magnifying glass" shows an image taken through a lens from a stamp, coin or whatever you want, on a small screen, with a magnification up to 107 times. The device can store around 60 images in its memory and can also be connected to a computer through a USB cable. The nice thing has a price of 180 euros (gasp). So on to Cor.
We all know maximum cards, but the latest motorcycle-maxcard of Bulgaria is made in a very nice way. Not only is the front beautiful, with stamp, cancelation and image in the greatest possible agreement, but the block margin is put on the back and also shows a cancel.


It is difficult to tear a stamp from a block. The Bulgarians have resolved this by making a small cut in the block margin before tearing the stamp out of the block.
Hans de Kloet