3-Wheelers and more……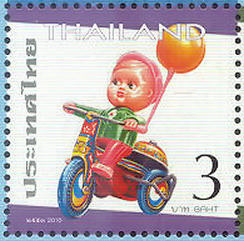 In newsletter 95 we had one again: a stamp that is subject of discussion. The toy on the stamp of Thailand had been denominated as motorized 3-wheeler. At the latest club meeting this stamp with the tin toy off course came up for discussion, and I promised the questioner to investigate it. This toy has been equipped with a wind up mechanism, thus an engine; but I had some doubt whether the depicted item was indeed supposed to represent a motorcycle. So, onto the internet and soon I could read on the website of Thai Post that it is a "tricycle", thus a 3-wheeled bicycle. But..... everyone is free to see in it what he or she likes.
Bye the way, on the presentation sheet of this series there really is a tin motorcycle with sidecar.

Apart from that we have more of this kind of questionable stamps and/or images in our collection, and also we as committee members and composers of the catalogue are often puzzling to find out whether an image concerns a motorized 3-wheeler or an other kind of vehicle.
In the past there has been some discussion about another toy on a USA stamp, in which some members saw a motorcycle. Also that stamp is clearly a bicycle to my opinion.

The stamp with a boy on a pedaling bike represented as a trike I can just accept to be a worthy item for my collection, but the one from Mexico with the pedal-propelled rail-lorry cart is, also after some discussion, (still) excluded. I will looked further into this one on a later moment.
Sometimes we also have to discuss within the committee how to look at a specific vehicle, motorcycle or not. An example is the "Riding Raincoat" of DAF that recently came up for discussion. This concerns a narrow vehicle that was invented by Huub van Doorne in the years of the last World War, but has never come into production. In those years the A of DAF was still for "Aanhangwagen", the Dutch word for trailer (the first DAF automobile was built not earlier than in 1949). Certainly a nice car, but a motorcycle???

The Riding Raincoat of Huub van Doorne
With the introduction of the European Type Approval (ETW) the whole RDW (Dutch agency for road transport issues) has been turned around, and now all 3-wheelers built or registered after May 1st 2009 are regarded to be cars. This makes that it is allowed to ride an old trike with an A-license (for motorcycles), but that you need a car driving license to ride a new 3-wheeled Piaggio. Strange guys, those Euro-officials.

The Piaggio 3-wheeled scooter for car license
And still, a discussion like this now and then can be very profitable, as we will meet some new dilemmas on the road in the future. What to do with the electric motorcycles that are currently under development? The FIM organizes already for the second year the GPE (a nice movie can be found on the FIM-site, with 260 km/hr over the finish line: look at www.fim-tv.com) and on various continents there are solid experiments going on with electric motorcycles. In the USA you can buy a Roehr Superbike with a top speed above 220 km/hr and a range of action around 100 miles, for 20.000 US$. Looks and rides like a real motorcycle, isn't it?

But if we include bikes like this in our collection, what do we do with the electric bicycle of Batavus? After all, the comparable dwarf the Solex is accepted between the big boys in our collection. Please tell me!
Hans de Kloet

A clearly non-motorized 3-wheeler